Spain's Santander ends contract with Rodrigo Rato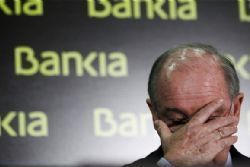 Spain's Santander is disbanding its 12-strong international advisory board, a spokesman said on Friday, in a move that ends ex-IMF chief Rodrigo Rato's tenure at the bank and is the highest-profile decision yet from new boss Ana Botin.
Rato, who served as head of the International Monetary Fund, as Spain's economy minister and who ran lender Bankia until its state rescue in 2012, was hired by Santander as an adviser in September 2013.
He was recently accused of improper management by magistrates investigating allegations that dozens of former executives at Bankia and its predecessor Caja Madrid used company credit cards for personal expenses.
Rato has denied any wrongdoing. Santander refused to comment on his position at its third-quarter results in early November.
The bank said on Friday that it was losing the international advisory board, which it has had since 1997, as its situation was changing. "The digital revolution, the new trends in global business, greater demands from regulators and clients and the lack of trust among the public in the financial industry bring important challenges and opportunities for the business," Santander said in a statement.
Other members of the board included George Mathewson, the former chairman of Royal Bank of Scotland, and Francisco Pinto, ex-prime minister of Portugal.
Ana Botin, who had been running Santander's British unit, took over as executive chairwoman after her father Emilio Botin died in September.
Until now, she has not signalled any big shake-ups at Santander, saying she wanted to continue her father's strategy and international push at the euro zone's biggest bank.
Recommended Reading :
* Spain's ruling PP expels Rodrigo Rato
* Spain probes ex Bank directors suspected of misusing company credit cards