Air Europa "Interested in Flying to Castellon Airport"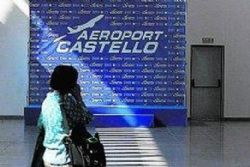 Representatives of Castellon Airport have confirmed they have been in negotiation with Air Europa, and a further 6 tour operators, with regards to introducing charter flights to the airport.
Speaking at the FITUR tourism fair, the spokesman for the Provincial Council said how a number of meetings have already taken place between the Directors of Castellón Airport, SNC Lavalin, and President of Castellón, Javier Moliner, with the aim of establishing new routes to the province.
Moliner, together with the Airport's Director of Marketing, Jean Luc Magan, and the provincial Secretary of Tourism, Andrés Martinez, have been negotiating with several tour operators, including Europlayas; Odeon Tours; Travel Olympia and Serhs, to attract visitors from France, Portugal, Russia and Eastern Europe.
Recommended Reading :
* Castellon Airport : Financial Audit for FY 2013
* Airline Declares 'No Interest in fFying to Castellon Airport'