Murcia's San Javier wins EU's best airport award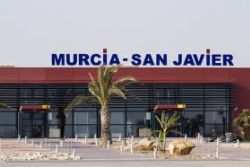 Will AENA close commercial flights at Murcia's San Javier following the facility being awarded the title of the EU's best Airport (in the under 2 Million passengers per year category) for 2014 ?
If anything, this recognition by the International Airports Council makes it a laughable suggestion to close the facility in favour of Corvera Airport during 2016, as previously suggested.
The award came as result of a satisfaction survey conducted among passengers, and coincides with negations between AENA, the Ministry of Development and the Regional Government to agree on the closure process.
There is still no official announcement to confirm or deny whether the airlines flying into San Javier will transfer their operations to Corvera Airport, and with Alicante Airport being both more convenient to get to, Cheaper, and with a better range of flight frequencies and destinations, the logic that 100% of San Javiers (falling) passenger numbers will transfer to Corvera remains questionable.
The International Airports Council holds quarterly surveys at 270 airports in 50 countries, to gauge opinion on a range of criteria from facilities to customer service to overall cleanliness.
On being asked about the future of San Javier, the Airport's Director Pedro Vicente Gallut, would not give any confirmation of an official date for closure, but did say that Airport Official were still looking into the establishment of new routes to and from the airport.
Gallut also maintained that the airports loss of passenger numbers to neighboring Alicante airport over recent years had now stabilized.
Recommended Reading :
* Murcia's San Javier Airport to close within 6 months of Corvera opening
* Should Murcia compensate AENA for San Javier closure ?