Another Expat Vote Cock-up in 2015 UK General Election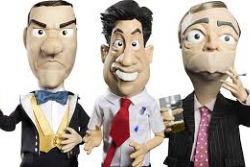 Expats have taken to Social Media this afternoon in anger that their voice has once again gone unheard in the UK 2015 General Election.
With an estimated 5.5 million Brits living abroad - compared to some 50 Million registered to vote back in the UK - it is easy to see why the expat vote could be a deciding factor in what is perhaps the closest election in living memory.
However, with eligibility to vote only being extended to those who have been UK non-resident for less than 15 years, the number of possible Expat votes is further eroded.
A joint campaign by both the Conservative Party and the Electoral Commission found that just 113,742 Expats had applied to Vote by post the cut off date of April 20th. The remainder could either opt to fly back to the UK to vote in person, or nominate a proxy.
The truth of the matter is that the majority of Expats feel that their vote has not been courted by the various Political Parties in the UK, and have declined to voice their opinion.
However, following on from a similar fiasco with the 2010 General Election, yet another cock-up by either the Royal Mail or the Election Commission has resulted in thousands of ballot papers never making it to their intended destination overseas in time to post back their vote by the deadline (10pm Thursday 7th May).
Perhaps more worryingly, it may never be known what percentage of those who did post back their ballot papers saw their vote get lost in the system.
A spokesman for the Electoral Commission told the Telegraph : "Our guidance to electoral administrators is clear that postal votes sent to overseas electors should be prioritised to allow the maximum time for them to be returned.
"We are aware that some overseas voters have raised concerns that they are yet to receive their postal ballot packs and we will look carefully at the evidence shared with us on this when we consider what issues to raise in our statutory election report, which will be laid in the UK parliament in the summer."
The spokesman added that the earliest that postal votes can be dispatched to overseas electors is after the list of those standing for election has been finalised, which happened at 4pm on April 9. Following this, ballot papers were printed and postal ballot packs prepared for mailing.
Recommended Reading :
* [May, 2010] UK General Election Voting Fiasco
* Expats urged to vote in UK General Election