"Greek exit could send message Euro is reversible" : Rajoy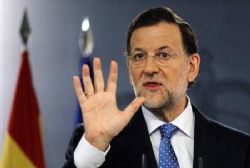 Spain's PM Mariano Rajoy said on Tuesday a Greek exit from the euro could send a message that the common currency union is reversible and open up the possibility that other countries might follow suit.
Greece looked set on Tuesday to default on a crucial repayment to the IMF, deepening its financial crisis ahead of Sunday's referendum on a bailout deal Athens has rejected. Greece's European partners say the vote will be a choice on whether to stay in the euro.
"What would happen if Greece came out of the euro? There would be a negative message that euro membership is reversible," Rajoy said in a radio interview.
"People may think that if one country can leave the euro, others could do so in the future. I think that is the most serious problem that could arise (from a Greek exit)."
Rajoy's centre-right Partido Popular, which has implemented stringent austerity measures to reduce Spain's deficit since the euro zone debt crisis, has taken a hard line against any leniency over Greece's debt.
Spain received a European bailout of over EU40 Bln for its troubled lenders in 2012 but has since overhauled its banking system and has become one of the fastest-growing economies in the eurozone.
Uncertainty over Greece's future in the currency bloc has shaken investor faith in Spanish assets.
Spain's blue-chip stock market, the IBEX, was down 0.85% at 0848 GMT, having closed down 4.1% on Monday, while the premium investors pay to hold Spanish debt over German paper was at 163 basis points, around 50 bps above the spread at the start of the year.
The PP government is facing political pressure from anti-austerity newcomer, Podemos ("We Can"), an ally of Greece's ruling leftist Syriza party. The popularity of Podemos among Spaniards weary of health and education spending cuts will be tested in a parliamentary election due later this year.
Rajoy said on Tuesday the measures taken by his government over the last three and a half years had saved Spain from Greece's fate.
"We fought hard to avoid a national-level bailout," he said. "Seeing what has happened to others, I think we can say it was worth it."
Recommended Reading :
* Spain sees GDP reaching pre-crisis level by end 2016
* Spanish hourly wages fall further from eurozone average