Castellon Airport to promote tourism in Bristol and London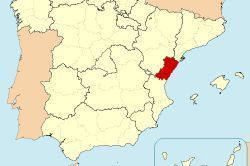 The Provincial Government of Castellón has affirmed it's commitment to support the campaign to attract more visitors from the London and Bristol areas of the UK until at least the end of the year.
The objective is to promote Castellon Airport as a destination for potential Ryanair passengers, who can fly to the airport from Bristol and London Stansted from September of this year.
The Provincial Government has allocated EU300,000 from its budget to promote tourism in two comprehensive media campaigns - one in each area of the UK - and which may be extended into 2016.
The provincial vice president of Tourism, Andres Martinez, said he was convinced of the "return on investment, which reversed in more visitors and better positioning of our tourism brand.".
With a recent shift of confidence with Holidaymakers from Northern African countries, more and more British Tourists are turning back to the more traditional holiday destinations - Spain in particular - and Castellon looks likely to be able to address that surge in demand.
Recommended Reading :
* Ryanair to fly 42 Mln passengers to Valencia in 2015
* Castellon Airport worth EU216 Mln to local economy