Spain's economy to keep growing at around 1% in Q3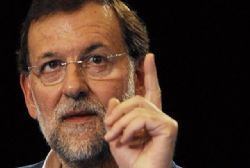 Spain's economy will grow in the July to September period at a similar pace to previous quarters, boosted by a busy tourism season and consumer spending, the economy minister said in comments published on Sunday.
Spain has recovered from a deep recession and the economy is growing at one of the fastest rates in the euro zone, expanding by 0.9% quarter-on-quarter in the first 3 months of 2015, and by 1% in Q2.
Minister Luis de Guindos was quoted as saying that growth would be "very similar" in Q3.
In an interview published on Efe's website, he predicted Spain's tax take would also keep growing, helping the turnaround. He said the government, which has brought in personal income tax cuts, would not be changing the 21% VAT rate it introduced for cultural goods and services, which the arts industry has denounced as too high.
Spain's centre-right government is banking on the economic turnaround to win back voters ahead of a general election due by year end. Polls show the ruling People's Party risks losing its majority in parliament after corruption scandals and spending cuts.
Spain still has the 2nd-highest unemployment rate in Europe after Greece, at 22.4%.
But jobs have started to return and household spending has recovered after family budgets fell sharply in recent years. Improving domestic demand as well as rising exports have fuelled growth since Spain emerged from recession in mid-2013.
Final gross domestic product (GDP) data for Q2 is due on Aug. 27.
Recommended Reading :
* Bank of Spain Governor dfends austerity to preserve economic recovery
* IMF warns Spanish economy may slow over next 5 years