Sabotage could be behind four-hour suspension of high-speed rail service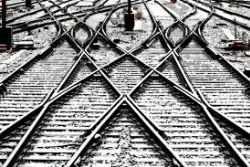 AVE high-speed train services were suspended for four hours in Catalonia on Thursday morning after cuts to fiber-optic cables on a stretch of track brought down the communications system.
Service was halted between Tarragona and Figueres (Girona). Trains departing from Madrid were also affected. A total of 30 trains and 9,500 passengers suffered delays due to the incident.
The Catalan police have now ruled out an early theory that thieves might have gotten the fiber-optics cables confused with copper, which sells well on the black market.
Instead, the Mossos d'Esquadra believe it was a deliberate act of sabotage by individuals who knew exactly what kind of an effect their actions would have.
The cuts to the cables brought down the communications system that controls train traffic, forcing all scheduled routes to be suspended.
There were two cuts, 143 meters apart, on the stretch of tracks between Vilafranca del Penedčs and Gelida (Barcelona). One of the incisions damaged the main communications line, while the second knocked out the backup line.
Félix Martín, head of Renfe's passenger department in Catalonia, said the fiber-optic cables are protected by concrete conduits on each side of the tracks, and can only be accessed by applying brute force.
After four hours of chaos, trains began to circulate once again.
Martín would not confirm whether passengers will be getting their money back. Renfe president Pablo Vázquez was one of the passengers affected by the service cuts, said Martín.
Recommended Reading :
* The Train in Spain is mightier than the Plane
* None of Spain's AVE high-speed rail lines profitable