Spain to Present Ideas on Solving Refugee Crisis to EU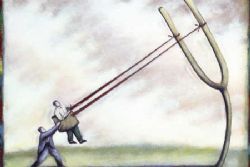 Spain will present its ideas on solving the migrant crisis to other EU member states, Spanish PM Mariano Rajoy said Thursday.
Rajoy said a delegation from Madrid would soon visit Italy, which is currently hosting refugees who are scheduled to be transferred to Spain under the quota system.
Europe has been overwhelmed by a refugee crisis, with hundreds of thousands of undocumented migrants fleeing their home countries in the Middle East and North Africa to escape violence and poverty.
Over 710,000 migrants arrived in the EU during the first 9 months of 2015, EU external border protection agency Frontex said last week.
On September 22, home affairs and justice ministers for the bloc's 28 member states agreed to a European Commission proposal to resettle some 120,000 refugees currently in Greece, Italy and other EU frontier states directly affected by the crisis.
Recommended Reading :
* Spain "Will accept it's corrresponding refugee share" : FM
* Spain fears Jihadists may enter country alongside asylum seekers