Most Catalans reject ruling separatists' plan to split from Spain : Poll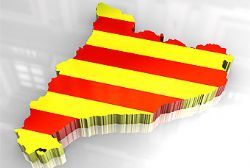 Most Catalans reject the region's ruling separatist parties' plan to start a political process that would lead to full independence from Spain within 18 months, a survey by pollster Metroscopia showed on Friday.
The separatists in the wealthy northeastern region launched their so-called roadmap for independence on Tuesday when they offered a declaration in the regional parliament to split from Spain. The local assembly has yet to approve it.
PM Mariano Rajoy said his government would ensure the declaration would have no effect as Spain's constitution does not allow any region to break away.
The Catalan parliament still has not formed a government due to differences between the pro-independence parties about who should be head of the regional government. Elections may have to be held again if they cannot agree to compromise.
In the election in September, the parties won a majority of seats in the assembly but not a majority of the vote.
Opinion polls have shown most Catalans would like to remain within Spain if the region were offered a more favorable tax regime and laws that protect its language and culture.
Friday's poll, published in El Pais newspaper, showed a fall in support for the acting head of the region, Artur Mas, who tried and failed to hold an official referendum on independence last year. Nearly three-quarters of those surveyed no longer want him to lead the regional government.
Rajoy, facing a general election on Dec. 20, met with the leader of the opposition Socialists Pedro Sanchez on Thursday and will meet with the leaders of new parties Podemos and Ciudadanos on Friday to agree not to use the question of Catalan independence as a political platform in the election campaign.
All four parties want Catalonia to stay within Spain, although leftist Podemos has said it would support a referendum on the matter.
The poll on Friday also showed support for independence from Spain falling to 41 percent from 45 percent before the regional elections.
The poll surveyed 900 people on Oct. 28.
Read the timeline of Catalonia's bid for independence by clicking the link > HERE <