Spain Is Beating Germany at Its Own Game, Rajoy Adviser Says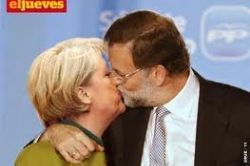 PM Mariano Rajoy's chief economic adviser said Spain is doing better than Germany when it comes to boosting exports within the strictures of the euro.
Spain's inflation rate has been lower than Germany's for the past two years leading to a steady increase in competitiveness,  Alvaro Nadal said at an event in Madrid Tuesday. As a result, Spain has seen a "spectacular" increase in the range of services it sells abroad and its total exports are now second only to Germany as a percentage of the economy, Nadal said.
"It's necessary to keep playing by the German rules," Nadal said. "And we are doing better than the Germans at the German game."
Three years after seeking a bank bailout from the rest of the euro area, Spain's economy is growing at close to the fastest pace since 2007 as Rajoy prepares to fight a general election in December. The prime minister is trying to persuade voters that he's the only leader who can guarantee the economic recovery.
Struggling in Polls
But he's struggling to convert his economic success into political capital, with unemployment at 21.8%, double the EU average and more than 3 times the German rate.
Rajoy is set to get about 27% of the vote compared with 45% in 2011, TNS Demoscopia poll said Tuesday. Ciudadanos was at 20% and the PSOE at 19%.
Rajoy helped get the euro area's fourth-largest economy back on track by reducing the cost of firing and hiring workers as well as making it easier for companies to agree salaries outside industry-wide bargaining agreements. Those reforms were put in place under the supervision of European officials after Rajoy had to accept oversight after borrowing more than 40 billion euros to recapitalize the banking system in 2012.
Budget Minister Cristobal Montoro said the Spanish economy has entered a virtuous cycle with growth and job creation accelerating together while inflation remains slow.
DDefending his administration's tax cuts, which were called into question by the
European Commission last month, Montoro said at a separate event in Madrid that the changes had added 3.4 billion euros to the real economy.
After years of deficits, Spain is on track to post a current account surplus for a third year in a row, a sign that the economic growth is sustainable, said Nadal.
"For the first time exports are growing at similar pace to imports," said Nadal. "'We are already the developed country with the biggest shares of exports after Germany."
Recommended Reading :
* Spain breaks new tourist record wih 544 Mln foreign visits up to September
* Spanish Children amongst hardst hit by eonmic crisis ; Study