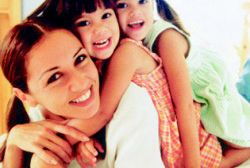 Whether you are a family searching for an Au pair, or maybe an Au pair looking for a family to live and work with in Spain, there are a number of considerations that you need to be aware of. These points should be taken onboard by both parties to ensure that the Au pair can fit into family life as quickly and easily as possible.
The purpose an Au pair is to provide single women and men aged between 18 and 27 with the chance to study a foreign language and culture while living as part of a family. Technically it is not possible to be an au pair in your own country or in a country who speaks your native language; although in some cases exceptions can be made because the arrangement is informal no contract is agreed or signed. Au pairs are generally treated more like family members than employees and have much less responsibility for the welfare of the children than a nanny, and is not normally expected to take sole charge of a very young child.
Families
Any family that has lived and worked in Spain for even the shortest period of time will know that the state Schools and nurseries have numerous fiestas and holidays throughout the year. The majority of non-Spanish families simply do not have the same support network that many Spanish families have and can therefore not call upon the grandparents to help out when childcare becomes an issue. It is therefore not surprising that taking on an Au pair becomes an attractive issue for many families.
Once you decide that an Au pair would be an asset to your family life it is recommended that you research a suitable Au pair agency to help you through the selection process and the necessary paperwork and procedures involved in locating a suitable candidate.
Au pairs
Being an Au pair is a fantastic way to expand your horizons and learn about a new language and culture, whilst still having the support of your host family. As soon as you decide that being an Au pair is something that appeals to you it is recommended that you research a professional and reliable Agency that will be able to help you to find a suitable family to live and work with. They will also be able to assist you with the required paperwork.
Points for both Parties to consider:
Money Depending upon the terms of the agreement it may be 2 weeks or even a month until payday, so the Au pair should ensure that they have sufficient spending money to last until then – preferably in the appropriate currency. If you are the host family ensure that all parties are clear on the financial arrangements.
Cooking It may be expected that the Au pair prepares basic meals for the younger children and from time to time they may be asked to prepare a family meal, but cooking should not be considered as one of the Au pair's core responsibilities.
Travel Generally the Au pair will be expected to pay for and make your own travel arrangements and in many cases the Agency will be able to assist with this. In cases where the term of the arrangement is informal, or uncertain then the return trip should be booked at a later date. It is also expected that the host family should meet the Au pair at the airport.
Hours of Work Au pairs from non EEC countries can work a maximum of 25 hours per week or 5 hours per day with 2 full days off per week. Au pairs from EEC countries can work a maximum of 40 hours per week or 8 hours per day with 1½ or 2 full days off per week. Payment should be approx 45 Euros per week.
The Culture Clash Both the family and the Au pair should expect misunderstandings, a difference in lifestyle and culture and overall a 'different way of doing things'. Whilst the host family should try and make it easy as possible for the Au pair to settle in, the Au pair should try hard to be as adaptable and flexible as possible.
The Au pair application process The Agency will generally request that the applicant attends an interview and provides a passport type photograph that will accompany an introduction letter addressed to any prospective family giving details of their background, previous experience with children, why they wish to experience life in Spain etc...
Documents Required The host family may request some or all of these documents be provided by the Au pair: A Doctor's medical certificate – to ensure that you are medically fit to look after children; Character reference - from at least 2 different non-family members who have know the applicant for more than 2 years.
The Language It is important that the Au pair can speak the language of the country to a reasonable standard as this will be essential for communicating with the family and children. One of the goals should be to develop the language skills, not to learn it from scratch. Equally so the family should respect that the Au pair wishes to improve their language and so to help them with this aim.
Preparation No matter how much knowledge the Au pair has of the culture and the language there is always room for a little improvement – take a short course to brush up on your language skills (or even take a beginners course!), maybe read a book or two on the culture.
Duties Au pairing can incorporate any number of duties beyond caring for children, although this should always be your primary duty. Some duties that could be requested include :
- Families may expect you to keep their children's rooms tidy, and also to do some light housework. `Light housework'. It is usual to be asked to dust, vacuum, wash dishes and keep the children's rooms clean.
- Occasional Laundry and ironing of children's clothes.
- Preparation of some children's meals, occasional preparation of meals for the whole family.
- Usually the family will do the main weekly shop, but the Au pair may be asked to shop for some other things.
- If the Au pair can drive it is reasonable for certain driving duties, such as collecting the children from school, to be added to the responsibilities.
- Some families may ask the Au pair to teach a little bit of your own language to the children.
Staying on One of the advantages of being an Au pair, is that it can be easy to make your status in your chosen destination legal. Work permits are notoriously difficult to get for `proper jobs' in most countries of the world, but often exceptions are made for live-in help. The minimum age can be a stumbling block for some school leavers who are not yet 18.
Healthcare It is in the best interests of both the host family and the Au-pair to ensure that all the Au pair's healthcare requirements are fully covered – whether this be through the EEU's EHIC Scheme, or through private health insurance.
Whether you are a potential host family, or a would-be Au pair, there are two important steps that you should take: Firstly, liase with a professional and experienced agency who can assist with the application and selection process and advise both parties with what to expect. Secondly, both parties should be clear about their expectations and requirements and, once everything has been agreed to it should be set down on paper.