Anonymous-linked hacktivists leak details of over 5,000 Spanish cops online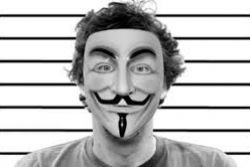 Spanish police have opened a probe into a group which claims to be part of the loose hacktivist net known as Anonymous that leaked the names of more than 5,000 officers online, as well as their contact details and police passwords.
Spanish police sources told the EFE news agency that the social network group @FkPoliceAnonOps was responsible for the data dump. The hackers managed to gain access to the telecommunications unit for investigative crimes.
In a message attached to a Wednesday Tweet, the group said the data had been leaked in revenge for Spain's gag law, which it claims limits human rights and freedom of speech.
"We are publishing a list of members of your 'force' in order to make you understand how thin is the curtain (or the balaclava) behind which you are hiding. Make no mistake, with every action comes a counter reaction and we all have to pay for our acts!" the published statement read.
Police officers' names and other personal details were released online, as were passwords giving them access to the police's social security database.
"Approximately 5400 police members' identities will be revealed and dumped into the FREE public domain, together with your ID numbers, emails and password hashes. The target was mupol.es, a mutual fund for Spanish policemen," another part of the statement added.
Anonymous took down the Spanish parliament's website in April of 2013 when a mass protest shook the country as members of the public demonstrated against economic hardship and record-high unemployment.
The distributed denial of service (DDoS) attack jammed the parliament's servers, rendering the site inaccessible to the public.
Anonymous had also hacked the website of Spain's national police force in June of 2011. That attack was carried out in revenge for the arrest of three Spanish men believed to be core members of the group, who had been arrested days earlier and charged with organizing cyber-attacks against the websites of Sony Corp, banks, and governments.
Recommended Reading :
* Activists to take Spain to ECHR over 'Gag Law'
* Woman fined under Spain's 'Gag Law' after posting pic of cop car in handicapped spot