New flights announced Birmingham - Spain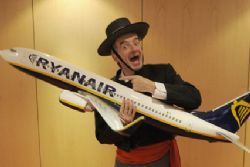 This time it's good news for Brummies !
Following on from Ryanair's announcement of new routes between the UK and Spain for the Summer 2017 scheules at Leeds and Newcastle airports, the budget airline has launched the schedules for Birmingham.
Flights for Summer 2017 include 2 new routes to Girona (3 x per week) and Reus (2 x per week).
The Airport will also benefit from an increase in flight frequencies to Gran Canaria (3 x per week), Ibiza (6 x per week), Palma (11 x per week) and Tenerife (4 x per week).
Predictable as ever, and never one to knowingly pass up a marketing opportunity, Ryanair are 'celebrating' by launching the above flights on sale from £19.99 each way until midnight on Monday 25th July.
Recommended Reading :
* New flights announced North UK - Spain
* Ryanair launch 2 new routes Scotland - Spain