Balancing the books at Spain's Castellon Airport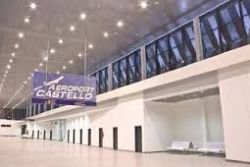 Castellón Airport will continue to hold a negative balance sheet into next financial year.
Aerocas – the concession holder of the facility- expects to see a EU9.2 Mln loss as a result of retaining SNC-Lavalin as the Airport manager at the cost of EU4.5 Mln per year.
In summary: the negative balance sheet is set to extend from EU48.9 Mln at the end of this year to EU53.3 Mln by then end of 2017 – as such, the Generalitat Valenciana has also agreed to subsidise the facility with further public funds to the sum of EU4.9 Mln.
Similarly, SNC-Lavalin is expected to invoice Aerocas almost EU750,000 for 'management and technical assistance'.
The news comes as Alexander Schroll, the Director of Castellon Airport, confirmed that passenger numbers were on track to stand at 120,000 by the end of 2016.
Despite not being part of the AENA's group of Airports, this places Castellon as being busier than 13 of the network of 48 Airports.
However, it is only fair to point out that these statistics are in line with initial projections, and as such it can be hoped that the same can be said with regards to estimations that some 5 Million passengers per year will travel through the Airport by the year 2035.
Optimistic ? – Maybe so when you consider that this would place Castellon Airport as the 11th busiest Airport in Spain, when using AENA's figures for 2015 as a comparison.
The current agreement between Aerocas and SNC Lavalin guarantees the payment of EU24.5 Mln in the first 10 years – capped annually at a maximum of EU4.5 million – and with some EU11 Mln having been paid to date.
Public funding to SNC Lavalin is not set to decrease until the facility exceeds 1.2 Million arrivals per year – which would place the Airport as the 18th busiest in Spain – and not predicted to occur until 2029. From then on, the Operator will then pay Aerocas EU1 per passenger arrival.
Recommended Reading :
* Surge of passengers expected at Castellon Airport
* Castellon Airport set to exceed 100,000 passengers in 2016