Spain lifts Catalan deputy's immunity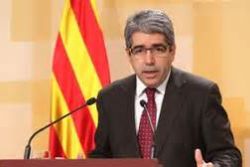 The immunity of Catalan deputy Francesc Homs, accused of abusing and disobeying Constitutional Court decisions in connection with pro-independence initiatives by the Catalonia autonomous government in Spain, has been abolished.
A closed session was held in the Spanish Parliament on the removal of Homs's immunity by request of the Supreme Court. The decision to lift the immunity preceding the trial of Homs was accepted by a vote of 248 to 91. Homs' trial is expected to start next spring.
Regarding Hom's trial, Spanish PM Mariano Rajoy said: "I am always open to dialogue with Catalonia, but I cannot accept it as a precondition for a referendum to start the dialogue. It is factitious to accuse Spain of not being a democratic country."
Due to the pro-independence initiatives, the legal process continues for five Catalan politicians. Catalan Parliament Speaker Carme Forcadell was put on trial by the Supreme Court of Catalonia on Dec. 16 to testify. Homs, who served as the vice president of the Government of Catalonia during the pro-independence popular vote held in Catalonia on Nov. 9, 2014, acts as the Assembly Speaker of the Democratic Party of Catalonia (PDECAT).
The Supreme Court announced that it has launched proceedings against Homs for his alleged role in staging an informal independence referendum in November 2014. Artur Mas, the former president of Catalonia's regional government and two other officials have faced charges for their alleged roles in the 2014 referendum.
Recommended Reading :
* Spaniards flunk Politicians when it comes to fight against corruption
* Spain officially most corrupt country in EU