Spanish courts hear 426 domestic violence complaints every day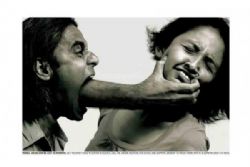 The number of complaints for gender violence filed with Spanish courts were up 14% from June to September compared with the same period in 2015, according to a specialized government body. Records kept by the Domestic Violence Observatory of the General Council of the Judiciary, Spain's legal watchdog, show that 36,079 women filed 38,402 complaints during the three-month period.
That is an average of just over 426 cases a day.
The statistics, released on Monday, also reflect a considerable rise of over five percentage points in the convictions-to-complaints ratio. In the third quarter of the year, 69.5% of cases ended in a ruling against the abuser, compared with 64.1% in the same period in 2015.
From June to September, Spanish courts handed down 10,570 decisions, of which 7,344 were convictions and 3,226 were acquittals.
The data shows that 69.2% of the women who filed the complaints are Spanish citizens, while 30.8% have other nationalities.
Broken down by regions, the highest rate of victims of domestic violence is to be found in the Balearic Islands, with 29.6 cases for every 10,000 women, and the Canary Islands, with 23.1 cases. The lowest ratio is in La Rioja, with 7. The national average is 15.2 cases per 10,000 women.
As of late November, 39 women had been killed as victimes of gender violence this year in Spain, a number that has been in slow decline for several years.
Recommended Reading :
* Grim January for Domestic Violence in Spain
* The successes and failures of Spain's fight against domestic violence