Spain's 2016 deficit expected to be below 4.6 pct target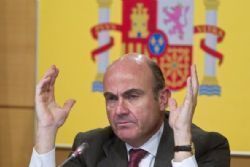 Spain's budget minister said on Tuesday he expected the country's deficit for 2016 to be below its target of 4.6 percent.
Spain's 2017 deficit target of 3.1 percent, which it has agreed with Brussels, was demanding but "achievable," Budget Minister Cristobal Montoro told reporters.
Excluding financial aid, Spain's 2016 deficit would be close to 4.3 percent, Montoro said.
Recommended Reading :
* Spain's PM says economy to grow at least 2.5% this year
* EU tells Spain to brace for cuts due to likely 2017 deficit miss