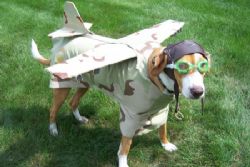 A maximum of five pets may accompany you on your journey to Spain. All dogs & cats (and even ferrets!) must have a microchip OR registration number tattooed on the inside of their ear before they can enter the country. A rabies vaccination is usually not compulsory when coming directly from the UK. (But it is if you plan on returning back to the UK from Spain)
However, if a rabies vaccination is given, it must be administered not less than one month or more than one year before export. A rabies vaccination is necessary if pets are transported by road from the UK to Spain via France. Pets over three months old from countries other than the UK must have been vaccinated against rabies not less than one month and not more than one year before being imported. If a pet has no rabies certificate it can be quarantined for 20 days. Pets under three months old cannot be imported into Spain.
An official certificate (Certificado de Origen y Sanidad) is required, which must be filled in and signed by a vet. The certificate includes the owner's details, a description of the pet, the microchip number and where and when it was inserted, and the date of the rabies vaccination. The certificate is in Spanish and English and is valid for four months after it has been signed. The certificate can be obtained from Spanish consulates abroad and downloaded from http://www.mapausa.org
The Regulations in the UK
The Pet Travel Scheme (PETS – now regulated by the EU pet passport scheme) replaces quarantine for qualifying cats and dogs. Under the scheme, pets must be micro-chipped in their neck, vaccinated against rabies, undergo a blood test and be issued with a health certificate (passport). Note that the PETS certificate/ EU pet passport sometimes isn't issued until six months AFTER these tests have been carried out. In the UK, EU pet passports are issued by Local Veterinary Inspectors (LVI) only. In other EU countries, passports are issued by all registered vets.
To qualify, pets must travel by sea via any major British ferry port, by train via the Channel Tunnel or via Bristol, Doncaster, London Gatwick, London Heathrow or Manchester airports. Only certain Airlines are licensed to carry animals and these are listed on the Department for Environment, Food and Rural Affairs (DEFRA) website http://www.defra.gov.uk/animalh/quarantine/index.htm
British pet owners must complete an Application for a Ministry Export Certificate for dogs, cats and rabies susceptible animals (form EXA1), available from DEFRA at the above address. DEFRA contacts the vet you've named on the form and he performs a health inspection. You then receive an export health certificate, which must be issued no more than 30 days before your entry into Spain with your pet.
If you're transporting a pet to Spain by boat, you should notify the ferry company. Some Ferry Lines insist that all dogs are left in your vehicle, while others allow pets to be kept in cabins. If your pet is nervous or unused to travelling, you might want to ask your Vet in the UK about tranquilising him. A pet can also be brought into Spain by air. Dogs are permitted to travel into most airports in Spain.
When you are here...
If you intend to live permanently in Spain, most veterinary surgeons (veterinarios) recommend that you have a dog vaccinated against rabies before arrival. Dogs should also be vaccinated against leptospirosis, parvovirus, hepatitis, distemper and kennel cough. Note that there are a number of diseases and dangers for pets in Spain that aren't found in most other European countries. These include the fatal leishmaniasis (also called Mediterranean or sandfly disease), processionary caterpillars, leeches, heartworm, ticks (a tick collar can help prevent these), Obtain advice about these from a veterinary surgeon on arrival in Spain. It is important to give your Dog a yearly Check up and Blood test – usually done early Spring, at the same time as his yearly rabies booster.
Take extra care when walking your dog, as some have died after eating poisoned food in rural areas. Poisoned bait (such as meat laced with strychnine) is laid in some areas by hunters and poachers to control Wolves, Foxes and wild dogs.
When you are here, all dog owners are required to register their dogs and have them tattooed with their registration number in an ear or have a microchip inserted in their neck, and keep a corresponding Passport. Registration costs around €15 to €30 and there are fines for owners who don't have their dogs registered. Regardless of whether your dog is micro-chipped, it's advisable to have it fitted with a collar and tag with your name and telephone number on it. Most Town Halls have rules regarding the keeping of dogs, which require a health card if they're older than three months. In public areas, a dog must be kept on a lead (and muzzled if dangerous) and wear a health disc on its collar (Issued by the Vet after recieving the necessaarry vacinations)
After a number of attacks by dogs in Spain over recent years, the government introduced decree 50/99 - otherwise known as 'the Dangerous Dog Act' with strict regulations regarding ownership of such dogs. The Act set out the criteria for identifying such dogs and the responsibilities of the owner.
Even if your dog does not meet the Criteria of being a 'Dangerous Dog' it is wise to undertake Pet Insurance that can meet with Third Party Insurance (if needs be) and also any Medical costs for your dog.
More can be read about dangerous dogs in Spain by clicking the link HERE.