Royal Navy chases Spanish boat out of British waters off Gibraltar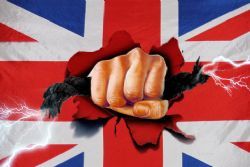 The armed ship sailed into British waters just hours after Spanish Foreign Minister Alfonso Dastis told Britain to "calm down" after form Tory Leader Lord Michael Howard said he believed the prime minister would "go to war" over the Rock.
On 3 April, May laughed off suggestions of a war with Spain, saying: "What we are doing, with all countries in the European Union is sitting down and talking to them".
"We are going to be talking to them about getting the best possible deal for the UK and for those countries, Spain included".
A Foreign Office spokesman said: "The Royal Navy challenges all unlawful maritime incursions into British Gibraltar Territorial Waters – and did so again on this occasion".
Lord Howard went on to cause controversy when he likened the dispute to the 1982 war over the Falklands Islands, launched under Margaret Thatcher following an invasion by Argentina.
As The Independent reported, "Gibraltar's leader has scolded EU Council President Donald Tusk for giving Spain a right of veto over the future relationship between the British enclave and the European Union after Britain leaves the bloc".
Tuesday's was the seventh incursion by a Spanish navy ship this year, according to Gibraltar's government.
'Our position on the sovereignty of Gibraltar has not changed and will not change, ' she added.
Gibraltar's chief minister Fabian Picardo called on the draft guidelines to be removed, saying the territory's 30,000 residents would not "tolerate being a bargaining chip or a victim" for Brexit negotiations.
In July, Spain's Foreign Ministry summoned the British ambassador to protest what it described as reckless behavior by a Gibraltar police boat toward a Spanish police vessel. "Nobody is going to gut our soul by taking away our British sovereignty", Picardo said.
The government of Gibraltar, a peninsula on the southern tip of Spain, said earlier that a Spanish patrol ship had entered its territorial waters without permission.
"Removal of the reference to Gibraltar would be a sign of good faith and good will", he said.
"That is not going to change".
Lady Anelay said: "We take extremely seriously the importance of negotiating the best outcome for the whole of the United Kingdom family – that includes Gibraltar".
Lord Howard's comments were raised in the House of Lords, where the foreign minister was called on to "distance herself" from the idea that the United Kingdom could go to war with Spain.
Recommended Reading :
* Gibraltar accuses Spain of causing traffic jams at border amid Brexit tensions
* Spain denies ship made illegal incursion into disputed waters off Gibraltar