Brexit takes its toll on Spanish property market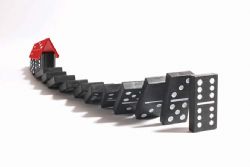 People from the UK make up the largest group of foreign buyers of property in Spain. In 2015, Brits bought 10,552 homes: 13.74% of purchases by foreigners, according to the Association of Land and Mercantile Registrars of Spain. That is up 6% on a year earlier, but the association warns that sales to Brits have been falling for four consecutive quarters. "The consequences of Brexit, especially in terms of its effect on the UK currency, are making themselves felt," the association said in its most recent quarterly report.
Mark Stucklin, with Spain's Second-Home & Resort Industry Observatory, explains that the United Kingdom's decision to leave the European Union has been clearly noticeable.
"British demand has fallen by around 28%, above all because of the devaluation of the pound," says Stucklin, who says that the correlation between exchange rates and sales has been established ever time. Sources in the property sector say prices have changed accordingly, with Engel & Volkers noting British sales in the Spanish property market stagnated after Brexit but are now rising again.
Recommended Reading :
* Spanish property sales up in February
* Brexit worry as Spain predict financial disaster