Madrid boosts security ahead of World Pride celebrations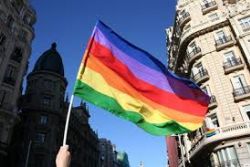 Over the next two weeks, the Spanish capital faces one of its biggest security challenges in recent years. Between June 23 and July 2, Madrid hosts World Pride, the planet's biggest LGBTQ event of the year, which is expected to attract up to two million people. In response, police and emergency services will be boosted, with more than 1,000 officers drafted in for the July 1 parade through the center of the city.
Spain is currently on a high-risk, level-four security alert. The highest level, five, would only be activated in the event of a terrorist attack. There will be a heavy police presence on the streets of the capital over the coming days, with armed officers stationed at railway and bus stations, along with the airport. Heavy vehicles will be prevented from circulating in the center of the city at certain times.
The regional and central government have held regular meetings over recent months with emergency services to discuss strategies to protect the public during World Pride. Security will be tight at Madrid's Barajas airport.
"This is a critical moment," say anti-terrorist sources. Security services are also checking the movements of people who have been identified as having links to jihadist groups, and will be on the lookout for travelers identified as a possible threat by US and EU police.
One measure that is being considered is having police accompany the floats taking part in the parade on July 1. The 600 officers who form Madrid's UIP riot police will be supported by units from other parts of Spain. Mounted police and officers with dogs will also be patrolling the capital during World Pride. The GEO special operations unit will also be monitoring security from the air using helicopters.
This week will see the final security details agreed, with officers assigned to the highest-risk events, such as the July 1 parade, which will run from the city's central Atocha railway station to Colón Square, and which is expected to attract more than a million people.
All leave has been suspended for Madrid's municipal police during World Pride week, with officers expected to have to work double shifts of up to 16 hours.
Recommended Reading :
* Spain at forefront of EU Jihadist counter-terrorism
* Ex SAS tackle terror threat to Brits in Spain