Spain burns at record rate under hot summer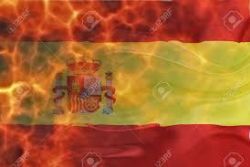 A dry spring and hot summer means that Spain is burning at an almost record rate during 2017, according to figures published by the Spanish ministry for agriculture, fisheries and the environment on Tuesday.
The first 7 months of the current year have seen a total of 63,700 hectares of Spanish countryside destroyed by wildfires.
This is 18% higher than the average amount of damage caused over the seven-month period in other years, and it is the second worst figure for the past five years and the third worst in the decade, with only 2009 and 2012 surpassing it in destruction.
The current high temperatures in Spain mean that nearly all of the country is currently classified as being at "high" or "extreme" risk of suffering a wildfire, with only some areas of the north and the islands of Menorca, Fuerteventura and Lanzarote, an area with hardly any trees, at a lower level of alert.
Two of the most destructive fires of 2017 saw over 8,000 hectares of woodland destroyed in and around the Donana national park in the south-west of Spain, while the Sierra Calderona close to Valencia also suffered damage in a blaze, which was apparently caused by lightning.
Meanwhile, the last 3 weeks of July saw a further 6,600 hectares destroyed by 3 fires.
Almost 20% of wildfires between 2011 and 2015 were started deliberately, either by pyromaniacs, people aiming to burn woodland to create pasture for animals, or merely for revenge, the regional Galician government calculated.
However, human error is behind the vast majority of wildfires, from discarded cigarettes, barbecues which have not been extinguished properly or have gone out of control, negligence with machinery, electrical faults, to burning scrub.
There is no data so far for 2017, but in 2015 Spain's Civil Guard investigated 2,607 fires, resulting in 40 arrests and charges brought against 389 people.
Recommended Reading :
* Heatwave sees record temperatures in Southern-Central Spain
* Spain jails German who set forest on fire with toilet paper