Corporate flight damages Catalonia's image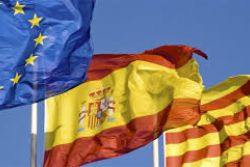 Barcelona, which the Financial Times once defined as the best city to live in, made the front page of Europe's financial publications last week. This is because several major listed companies – including CaixaBank, Banco Sabadell, Gas Natural and Agbar – decided to join a growing list of small and medium enterprises moving their corporate headquarters out of Catalonia over fears of political turmoil should a declaration of independence be announced.
In the short term, the change will not have a huge impact on Catalan coffers, but it will affect the image of a region that attracted €1.57 billion in foreign direct investment (FDI) in the first half of the year, representing 13% of all FDI in Spain.
"Secession would be a disaster for Spain. But it would also harm Catalans, which is the reason why a majority of them probably oppose it," said The Economist. Ratings agencies such as S&P and Moody's have already alerted about the dangers to Catalan financing if the tension keeps up.
"The Spanish economy has proven very resistant to political noise all these years. But it is impossible to ignore that the risk is increasing rapidly," writes Ángel Talavera, chief economist for the euro zone at Oxford Economics, in an analysis.
Corporate flight is not a new trend. In the first three quarters of the year, 584 companies took their headquarters out of Catalonia, whereas only 449 made the opposite move, according to figures from Axesor, a firm that specializes in company reports. That shows a net loss of 135 firms to September. Over the same period, Madrid added 111 businesses. According to the Business Register, 22,246 companies were created in 2016, a 18.6% rise from 2015.
Experts consulted by this newspaper agree that the biggest blow to the Catalan economy comes from the dent in its international reputation. Major companies have made the traumatic decision of leaving, spurred by investors and foreign funds that are disinclined to pour money into an area where uncertainty is growing and legal security diminishing.
This is particularly threatening to strategic sectors of the Catalan economy such as biotech and digital technologies. These companies have long times to market and require high capital inflows. Market sources explain that many of these companies will now try to protect themselves from any risk not directly involved with their own activity.
"Right now investment is on hold in Catalonia. Businesses requiring a new round of financing, capital increases or new partners will be forced to leave if the current political climate persists," said these sources. "Some may go to Madrid, but others could end up in other technology hubs, so it will be complicated to get them to come back."
Oryzon, a biotech firm that was planning an IPO on the Nasdaq, was the first to move its corporate headquarters to Madrid, alleging a need to be closer to the investor community.
In the middle and long term, a change of corporate address could herald the beginning of capital flight from Catalonia, which entails job and wealth destruction. Legal security and institutional stability are very important for growth. And in a state that is not internationally recognized, there is total uncertainty," notes Joaquín Maudos, a professor of economic analysis at Valencia University. "Besides, an exit from the euro zone would involve a strong devaluation of the new currency, which entails a loss of wealth."
The dent in the public coffers will be limited at first. Corporate taxes are levied by the central government, so it doesn't matter where a business has its tax residence. Besides, moving one's corporate address does not necessarily entail a change in tax residence, even though both address typically coincide. But losing companies the size of CaixaBank or Gas Natural would have a significant impact on a hypothetical independent Catalonia that would be deprived of these corporate taxes.
Dwindling revenues
No matter what happens, Catalonia has already lost revenues stemming from these companies' Property Transfer and Certified Legal Documents Tax, which last year contributed €1.47 billion to Catalan coffers. It is difficult to ascertain the impact of this loss.
"The companies that have changed their corporate headquarters will slowly transfer personnel to the new premises, with the loss of taxes this entails. The losses will be more noticeable in the mid-to-long term," says Luis del Amo, technical secretary for the tax consultants at the General Council of Economists.
Eurona, a telecoms firm that is listed on the Alternative Stock Market (MAB), said that it had long been mulling an internal restructuring process involving an HQ move to Madrid. The current political climate has made it an easy decision to make.
The board meetings at large companies, which usually take place at corporate headquarters, are also a significant source of revenues that will now go to the Valencian government, in the case of Banco Sabadell and CaixaBank, and Madrid in the case of Gas Natural. Out of the seven Catalonia-based companies listed on the blue-chip Ibex a week ago, there is only one left, Grifols. Cellnex, Abertis and Colonial are deciding on their move on Monday.
Besides this corporate flight, the Catalan business sector is concerned about the repercussion on the Barcelona brand, which the Reputation Institute places in eighth spot in the world rankings. This concern has grown following images of street clashes on October 1 and street demonstrations.
Lost opportunities could deliver yet another blow to the Catalan economy. Barcelona was once a strong candidate to host the European Medicines Agency after Britain decided to leave the EU. The latest technical report by the European Commission had the Catalan capital in top position to win the bid. But the prospect of a Catalonia outside Spain – and thus the EU – reduces the options of hosting an agency that employs 900 people and runs on a €340 million budget.
Recommended Reading :
* Spain's Caixabank to move from Catalonia
* La Caixa foundation to move headquarters from Catalonia to Mallorca