Murcia's San Javier Airport to close, Corvera to open ?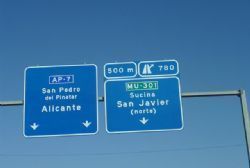 After almost one decade of indecision and uncertainty, a small step towards bringing Murcia's Corvera Airport into operation may have finally been taken.
Whilst the expected contract to manage the facility was not actually awarded on Friday last week as anticipated, the second of the only two companies to express an interest in operating Corvera Airport withdrew their application.
This leaves Spain's state airport operator - AENA - as the only entity with cap still in the ring, leaving the regional ministry of works with little alternative other than to accept their submission.
As such, it seems highly likely that this would result in AENA's proposal for the closure of civilian operations at Murcia's San Javier Airport.
The concession to operate the facility will be for the term of 25 years, during which Aena will have to pay the Autonomous Community a fee of between 0.73 to 2.52 euros per for each passenger received.
For their part, the Regional Government will pay the EU182 Mln loan guarantee, but will be required to finally settle the contract with previous concessionaire, Aeromur.
Once formalised, AENA will then be able to finally move forward in obtaining the necessary licenses and permissions to bring Corvera airport into operation.
Whilst San Javier remains a relatively popular Airport when compared to many others across the AENA network, it can only be guessed as to how many passengers - or Airlines - are likely to commit to the newer, controversial facility.
Recommended Reading :
* Murcia's Corvera Airport finally cleared for take-off
* 2.5 Million passengers per year to arrive at Murcia's Corvera Airport