UNICEF Parenting Study : UK v Spain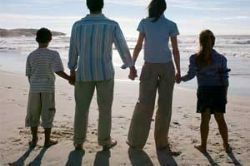 A joint study between Global Charity UNICEF and the United Nations Children Fund has launched a damning report on the state of parenting skills and childhood wellbeing in the UK.
The study, which surveyed 250 children between the ages of 8 to 13 in the UK, Spain and Sweden, studied attitudes towards materialism and inequality and found that parents and children had markedly different attitudes towards material possessions.
A further 24 families in each country were studied in much greater depth and filmed as they interacted in their everyday lives.
The conclusion was that family life across the three countries was markedly different. In the UK both Parents often worked long hours and compensated for this by buying material possessions for their children.
However, in Spain and Sweden it was found that family time appeared to be a more important and established fact of everyday life.
On the subject of materialism itself, the survey found that British children and parents both 'had problems', and noted that for the majority of eight- to 13-year-olds in all three countries, "new toys, fashion items and gadgets were not central to their wellbeing".
The report concluded that the peer pressure that children felt in the need to conform with the acquisition of material possessions was not reflected outside the UK : "This compulsive acquisition and protective, symbolic brand purchase was largely absent in Spain where parents were clearly under much less pressure to consume and displayed greater resilience."