Paramount Theme Park : It's a Go !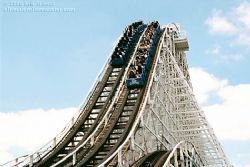 Executives from Paramount Licensing Inc, Including Vice President Michael Bartok, have announced that the construction of the theme park at Alhama de Murcia will go ahead.
The announcement came following a final official presentation of the project to board executives in the Spanish capital.
The project is expected to cost around 1'400 Million euros and result in the creation of up to 23'000 new jobs.
The 158 hectare site is just 15 minutes from the beach and the marina resort of Puerto de Mazarron, and will be divided into differently themed zones each with movie inspired themes, such as Star Trek, Titanic and Mission Impossible. There will also be a 'Lifestyle Centre' with 2 five-star hotels, 3 four-star status and a number of three-star hotels. The resort will also benefit from themed shopping malls, restaurants, bars and clubs, a 3'000 seat conference centre – and an open-air auditorium to accommodate 15,000 people.
Yesterday Jesus Samper, President of the Promoters of the Theme Park, announced that the theme park would be fully operational by 2015, in profit by 2018 and with dividends being paid to investors by 2025.
The news will also be well received by Aeromur, AENA and everyone else concerned with the new Corvera International Airport located closeby. The opening of the new airport is scheduled for opening during spring 2012 and estimates that 3 million passengers per year would fly into the airport because of the theme park.