Selling AENA "Like selling Crown Jewels"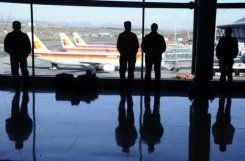 Spain´s Asociación de Líneas Aéreas (ALA), an association representing the airlines operational in Spain, are wary of the privatization of AENA.
Paul Olmeda and Juan Luis Burgos, President and CEO of ALA respectively, have expressed their doubts over the future of the capital structure of AENA, calling into question why any Government would wish to sell any state asset that is expected to return an operating profit by the end of 2011. Burgos compared the move to `Selling the crown jewels´.
However, Burgos also expressed his doubts that this would actually amount to a net profit, regardless of statements made by the Minister of Public Works, José Blanco, which assured that AENA would return to profit by the end of the year.
Phase One of the privatization process, consisting of the sale of Barcelona´s El Prat and Madrid´s Barajas airports, was stopped a few days before the start of the election campaign. The reason given for this was to allow additional time for the investors to raise funding, however the Partido Popular had also called for the move to be suspended until after the general election had been held in order that they may review the decision.
"It doesn´t matter whether the management is public or private, as long as it is efficient - which means more economic efficiency. AENA has been effective over the years, being able to move millions of passengers a month," Burgos commented.
Meanwhile, Olmeda declared his concerns that: "If AENA is privatised, airlines will suffer, as new management may increase rates."
The ALA was instrumental in suspending the privatization of AENA. The first phase of the process was due to be finalised just three days after the general election, but was eventually delayed for 3 months, until the end of January next year.