Rain forces diversion of flights from Valencia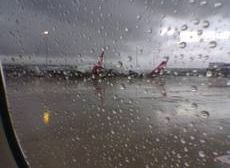 AENA was forced to divert a total of 9 flights from Valencia airport to Alicante yesterday due to an almost torrential downpour between 13.45 pm to 16.15 hours. El Altet also received diverted flights from other destinations, with a total of 12 flights from Ibiza, Tenerife, Mahon, Palma, Seville, Madrid, Zurich and Casablanca.
Over 55 liters per square meter fell in Valencia early yesterday afternoon, affecting the operation of the Airport, which was forced to suspended all operations between 14.00 and 16.15 hours for security reasons due to the accumulation of water on the runway.
In addition to those diverted to Alicante, two flights were directed to Barcelona-El Prat.
Normal service had resumed at Valencia by 16:30, during which time AENA had chartered a number of coaches to transfer passengers between the airports.