Airport drivers demand AENA suspend automated parking system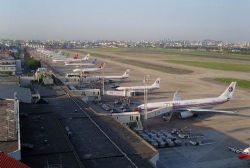 The Professional Association of Air Traffic Controllers (APROCTA) yesterday asked AENA to suspend the implementation of the Platform Management Service (SPD) which they intend to put into operation at Madrid-Barajas airport as of midnight tonight.
The new service would release 25 drivers from the responsibility of parking and moving aircraft around the airport, and pass control of the function over to a computerised system operated from the control center at Torrejon de Ardoz. The aim is to increase efficiency at the airport and reduced delays due to congestion.
Following the Supreme Court's refusal to appeals last week, APROCTA issued a statement of their concerns for aircraft and personnel at the airport. AENA President of, Juan Ignacio Lema, stressed that implementation of the SDP at Barajas would be "as safe and more efficient [than driver parking the aircraft]"
Also, the development, implementation and operation of the new system will result in much lower overheads than employing the 25 drivers at the airport, who have salaries approximately 200´000 Euros per year.
,, which take weeks to know the details of this function in the tower of Madrid, receive salaries much lower than the approximately 200,000 per year.
AENA also plans to introduce SPD Barcelona-El Prat, which would release a further 17 drivers.
AENA also has plans to privatise 200 control towers and 13 airports and aerodromes throughout the country.