Ryanair add London Airports to Reus schedules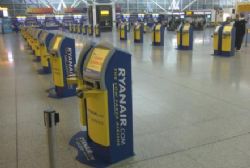 Ryanair have announced the sale of tickets for routes between Reus airport to London Stansted and Luton, on it´s website.
With effect from the 25th of March next year passengers will be able to can fly from Stansted to Reus, with a return flight from Reus to London operating just 2 days later on the 27th March.
The addition of these two new routes takes the total number of routes which Ryanair will now operate from Reus to 10 : Charleroi (Belgium), Weeze (Düsseldorf, Germany), Bristol, Dublin, East Midlands, Frankfurt, Glasgow, Manchester, Luton and Stansted.
Less than 3 weeks ago Ryanair ceased to use Reus as a base of operations, and all flights were suspended for the duration of the winter period.