PP to review Nuclear Power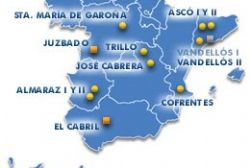 Spain's nuclear lobby is attempting to whet the appetite of the country's new Partido Popular conservative government for new nuclear energy.
The Strategic Nuclear Research and Development Committee (CEIDEN) has published a report which outlines a new nuclear program as a means of economic regeneration.
Whilst the previous PSOE Socialist administration was strongly opposed to new nuclear energy, the new PP Government has kept an open mind to it´s possibilities.
Spain currently has eight operational nuclear power stations on six sites : Santa Maria de Garona (Burgos); Almaraz (Cacares) x 2; Trillo (Guadalajara); Cofrentes (Valencia); Asco (Tarragona) and Vandellos (Tarragona) x 2, which together provide around 20% of the country´s energy requirements.