Murcia allocates 12 Mln budget to promote tourism in 2012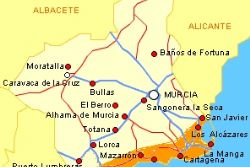 The Minister for Culture, Tourism and Sports, headed by Pedro Alberto Cruz, yesterday appeared before the Assembly´s Budget Committee to detail his department's budget for 2012.
The department will be awarded 62,929,337 euros for 2012 (4.16% less than in 2011), of which 11.8 million (5 more than 2011) will be used to promote the tourist attractions of the region and future projects - with particular reference to the Paramount Pictures Theme Park at Alhama de Murcia.
The budget will be used to promote trade exhibitions and media campaigns both domestically and internationally, in order to attract tourists in emerging markets such as Russia and the Nordic countries (Sweden, Denmark, Norway and Finland), as well as Germany and Britain.
The Assembly held that tourism "is the engine that will drive the economic recovery of Murcia" and highlighted the important role which the Paramount Theme Park project will have in placing Murcia as an international centre for both business and tourism. "When we meet with tour operators to introduce our offers, they suddenly become more interested when we discuss Paramount," Cruz acknowledged, who also noted that the launch of Corvera International Airport next year will mark a significant point in guaranteeing the future of tourism in the region.
Aside from the Paramount / Corvera projects, the Minister also announced plans to revitalize tourism in La Manga, which he claims is in need of a facelift, allowing the provision of grants for the renovation of hotels, as well as various leisure investments.
With regards to Lorca, where many of the town´s building were damaged or destroyed during the earthquakes earlier this year, the Minister confirmed that an allocation of one million euros would be made in order to rebuild and restore some of the cultural and historic structures of the town.