El Hierro Volcano Update : 2nd December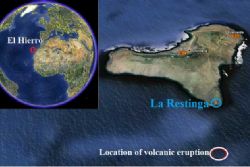 Scientists from Spainīs National Geological Institute (IGN) observing recent seismic and volcanic activity on the Canary Island of El Hierro have recorded a total of 9 separate earthquakes over the course of the last 24 hours (14.00 hrs Thursday - 14.00 hrs Friday GMT).
As in previous weeks, the majority of the 9 quakes were located in and around the El Golfo bay area, off the Coast of Frontera to the North of the Island, however one of the earthquakes was located off the coast of El Pinar, on the South-West of the Island.
The intensities recorded varied from between 1.8 to 2.8 on the richter scale, with registered depths varying between 16 to 23kms. None of these activities were felt by residents of the island.
Meanwhile, the Association of Small & Medium sized Companies (APYME) represented on the Island have launched a campaign with the Canary island Tourism Board " El Hierro : Rhythm of the Earth " specifically to promote tourism on the island for the benefit of the 27 Hotels, B&Bīs and catering establishments whose trade had been suffering as a result of the recent volcanic activity on the Island - specifically the periods of uncertainty following the evacuations at La Restinga.
Read further news stories about the El Hierro Volcano by clicking the link HERE .