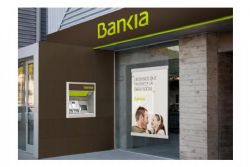 The Financial Times has reported how Bankia is being pressured into merging with another Spanish bank - possibly Santander, BBVA or Caixabank - which could result in the creation of the largest domestic lender.
Although Santander and BBVA have remained in good shape throughout the recent economic downturn, thanks largely to investment in other economies, Caixabank is not in a similar position of strength and has denied any such plans for a merger.
Mariano Rajoy's new PP Government has encouraged further bank mergers, and whilst he would not comment on Bankia directly, he did comment that recent measures "will mean new mergers in our financial system".
Earlier this month the PM decided against the creation of a so-called "bad bank", which would use public funding to bolster the capital assets of Banks in bad shape, deciding instead that the Banks themselves should find an extra €50bn of provisions to cover bad property assets.
Bankia has two immediate problems it muts now address : One, it must advise the BoS of it's plans to raise the additional €1.33bn required by the EBA as a result of the last round of stress tests by Friday of this week. Two, ir must increase it's provision against bad loans, which is due to be required by Banking Industry Regulators.
The Bank has an estimated €39bn exposure to toxic property assets and needs a further €5.6bn of provisions to protect itself against bad loans.