Privatisation of airport control towers 'may be reversed'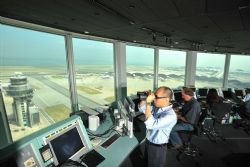 Following the suspension of plans to privatise El Prat and Barajas airports, the Ministry of Development will soon have to turn it;s attention to the issue of the privatisation of the aiport control towers. The new Minister of Development, Ana Pastor, said last Monday that her department had requested a report on the current situation, whereby a decision will be made after considering the safety and efficiency of the arrangement.
AENA sources do not rule out any course of action, including that of reversing anything that has already been implemented.
On 28 September last year, AENA awarded the management of 13 towers for a period of five years to Ferronats Air Traffic Services - co-owned by Ferrovial and NATS - and Saerco. The first batch of control towers to be released from AENA control were Alicante, Valencia, Ibiza, Sabadell, Sevilla, Jerez, Vigo, La Coruņa, Melilla and Cuarto Vientos. Saerco were awarded the control towers at Lanzarote, Fuerteventura and La Palma airports.
The handover of control from AENA to Private hands is still on-going, and should be completed by April 2012.
The cost of the tender for the outsourcing of the 13 Control towers in question - 18.1 Million Euros per year - represented a cost saving of almost 50% on AENA's current expenditure, and was a key consideration in making the decision to privatise.