Iberia Express Strike Today Brings 100 Cancellations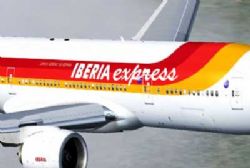 Iberia pilots represented by the SEPLA union are taking strike action for the fifth time today in as many weeks, in protest over the creation of a low-cost carrier, Iberia Express, for its loss-making medium-haul network.
Pilots are calling for the idea to be scrapped over concerns that the move will lead to job losses.
Previous strike days were held on the 18th and 29th of December and the 9th and 11th of January, timed to coincide with busy periods immediately before and after the Christmas and Three-Kings holiday period.
The airlines has been forced to cancel 100 flights today, followed by 94 on Friday 27th and a further 95 on Monday 30th,which amounts to 34% of all scheduled flights on the dates affected. As with previous walk-outs, Vueling and Air Nostrum flights are not affected.
Although it was feared that groundcrew, represented by the UGT and CCOO unions, may join the pilots in the strike action that the have already planned for every Monday and Friday in February, an agreement late last week has ensured that this will no longer be the case.
The Airline's cabincrew and groundcrew members represented by other unions have still to make a decision on joining the strike action.
Meanwhile, news earlier this week confirmed the first Iberia Express Flight Scheduled for 25th March , whilst just yesterday it was confirmed how SEPLA cancelled the Air Europa Pilots strike .