'AENA necessary at Corvera' : Retegui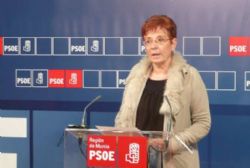 The Socialist Party spokesman for the region of Murcia, Begoña García Retegui, announced yesterday that AENA'a involvement at the region's Corvera international airport was made necessary due to compensation having to be paid out for the closure of San Javier airport.
In an interview with Europa Press, the Socialist deputy pointed out that President Valcárcel had previously stated that "the two airports were compatible and that Corvera was viable without having to close San Javier."
Retegui continued to say how during Jose Maria Aznar's administration, the project for a second runway at San Javier was approved because Francisco Alvarez Cascos, the Minister of Development at that time, did not wish to pursue the idea of an airport at Corvera.
As such works for a new runway, together with an extension to the terminal building, were authorised because it was believed that it would not conflict with any other developments.
However, the regional government under Valcárcel pushed the Corvera project so such an extent that central government simply left them to come up with their own justifications and explanations for needing such an airport built.
The Deputy also said how she hopes that 'Corvera airport does not come at any cost to the people and that it succeeds in bringing work to the region'. In addition to she expressed her hope that all of the employees of San Javier airport are successfully transferred to the new airport at Corvera.