Minister announces €7'000 Mln investment in infrastructure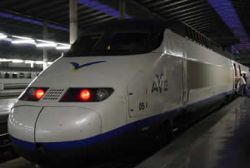 The Minister of Development, Ana Pastor, has announced a €7,000 million euro infrastructure investment plan which will include upgrades to the 'Mediterranean corridor' until 2024.
Pastor made the announcement to the house of Congress Development Committee, commenting "The time of undertaking enormous projects, such as having airports with no traffic, is over."
The Government's objectives are to complete the high-speed AVE rail network, improve the conventional railway network, and to increase standards of service.
€25'000 Million will be spent on upgrading the AVE high-speed rail network, with €6'543 Million of this being spent on the Mediterranean Corridor strech covering La Encina-Valencia; Albacete-Alicante; Alicante-Murcia; Murcia- Almeria and Antequera-Granada.
The stretch of line connecting Madrid to Barcelona and Tarragona, with an investment of €380 million, and the Valencia-Castellσn link, at a cost of €800 million euros were also announced.
The projects will be jointly financed between public funds, European grants and private investment.