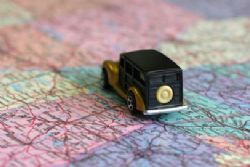 There are numerous routes you may wish to consider when you choose to drive your own car over to Spain. P&O Ferries have routes to Calais, and then a drive through France - or you my decide to travel with Brittany Ferries to Cherbourg in France or Santander or Bilbao in Northern Spain.
Naturally, thousands of people every year opt to take the route from the South Coast of England by Ferry to the Northern Coast of Spain. Whilst this route can not claim to be the quickest or Cheapest, it does have advantages over driving the whole way through France and is certainly worthy of note. P&O Ferries sail into Bibao and Brittany Ferries sail into Santander where a good network of roads can then be picked up.
You may even decide that the Ferry is not for you, and instead opt to travel by train driving to the Kent countryside and then onwards from northern France using the Eurotunnel.
Once you have decided to drive from the UK to Spain through France, you will then be faced with the option of making your journey with the quickest, cheapest or even the most scenic route in mind – for those who are in no particular rush and may wish to make the journey as relaxing as possible and take in the sights on the way down.
Of course, Tumbit can only advise you the appropriate routes to take across France and you will need to add in the necessary costs and any tolls or charges in making your way to your departure point from the UK and then on from Barcelona to your final destination in Spain.
The Quickest Route :
For those who just want to get to their destination as soon as possible...
From Calais take the A16 and then the A26 / E15. After 100km take the A1 towards Arras-Est. After approx 150km take the A3 for approx 15km to the Boulevard Peripherique After 100km Approx take the A71 / E09. After approx 300km pick up the A75. Get off at Exit 60 and take the D13 (signposted for A9 / E15). This will eventually take you into Spain where you will find yourself on the A7 or AP7 and will lead to Barcelona in approx 300 km.
The Journey time should take you 12 Hours to cover the total distance of 1321 km. Assuming that you are driving an average sized car (35 mpg) sensibly then the fuel costs will be approx 125 Euros and the Tolls for the Motorways will be Approx 90 Euros
# Excludes costs of getting to Calais and getting from Barcelona
The Cheapest Route :
For those on a budget ...
As you may imagine this is a complex route that avoids all motorway tolls and takes A-Roads as a preference to paying charges. As far as the map is concerned, the route seems very direct, however the roads are often very slow and this adds time (although strangely not much more mileage) to your journey.
The Journey should take you approx 18-19 Hours and cover 1351 Km. Assuming that you are driving an average sized car(35 mpg)sensibly the Fuel costs will be approx 120 Euros With Nothing to Pay in Tolls.
# Excludes costs of getting to Calais and getting from Barcelona
The Sceneic Route :
For those who are in no rush to get to Spain and wish to enjoy the journey down :
If You have a distance to drive to get to Dover in the UK before you even start your journey – and much further to travel in Spain beyond Barcelona then you can easily be looking at an overall journey time of 24 Hours plus – and that's assuming that your stops are kept to the bare essentials and you are taking the quickest route across France.
Understandably it is not of any interest for many people to arrive in Spain exhausted from the drive, and instead taking a couple of days to drive down and perhaps take in a bit of sightseeing along the way is appealing.
A 3 City Stop over in Paris, Perpignan and Barcelona does not add very much of a detour to even the most direct of routes and takes in some of the most diverse and popular cities in Europe.
The actual Travelling time should be 23 Hours (Split over 3 Days) and cover 1376 Km. Assuming that you are driving an average sized car (35 Mpg) Sensibly then the fuel costs will be approx 140 Euros with 20 Euros to Pay for Tolls.
# Naturally your accomodation costs on top of your additional charges in traveling to Calais and on from Barcelona need to be Factored into the over all expenses.
Regardless of which type of journey appeals to you the most, Tumbit strongly recommends that you use a reliable Sat-Nav device. As in the UK, Roadworks and Accidents can cause problems on even the shortest of journey's – and this can only be compounded when you are undertaking a route of this magnitude.