Half of Ryanair routes to return to Reus for Summer 2012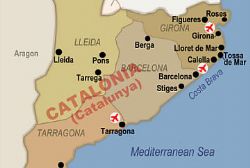 The return of Ryanair's operations to Reus airport, Tarragona, will be at 50% of last year's level, with just 15 routes.
None of the 15 routes are flying to domestic airports, although it has been rumoured that a route to Palma de Mallorca may be established later in the year.
Once the summer schedules begin, Ryanair will operate just 5 daily flights from the airport, whereas in 2011 the number stood at 2011 when Reus was a base of operations for the airline.
The route from Reus to London-Stansted will begin on the 14th of March, with routes to Birmingham; Bristol; Brussels; Cork; Dublin; Dusseldorf; East Midlands; Eindhoven; Frankfurt; Glasgow; Leeds-Bradford; Liverpool; Manchester and Luton commencing on the 26th of March.
A contract signed between the Catalan Regional Government and Ryanair last year agreed the payment of some 8 Million euros per year for a period of 5 years on condition that the airline guaranteed bringing 3 Million Passengers per year to Girona airport and 500'000 to Reus. It is understood that the agreement did not stipulate the number or frequency of flights that the airline should operate in order to arrive at this target.