Spanish Airports may increase charges by 15pct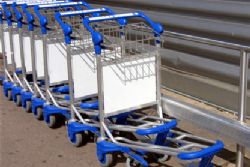 Last Thursday representatives of all airlines operating within the AENA network met with the Minister of Public Works, to discuss the difficulties faced by the new government, and the possibility of freezing current airport charges.
Despite listening to the requests of the airlines, Ana Pastor, the Minister for Development, insisted that the matter would be decided as part of the wider budget law, and as such the representatives of most of the airlines expected that this would result in similar increases being applied to the 15% increases seen in 2011.
The State Budget is generally set as far as 6 months in advanced of being formally announced at the end of March, however the change of Government has resulted in a delay to this being done.
Airlines and their employers have already described last year's increases as being "disproportionate", and have pointed out that 5 of the 52 airports in the network saw charges increase by as much as 20%.
The Chief Executive of Easyjet, Carolyn McCall, Cold Cinco Dias last week that "the policy of raising rates is extremely dangerous for Spain" - a statement which has drawn support from other airlines and employers working within the sector.
It is anticipated that a common A-320 or B-737 aircraft, arriving in Spain from another EU country could see rises of as much as 24% at Madrid-Barajas and 15% at Barcelona-El Prat airports.