Iberia Express strikes cost €36 Million to date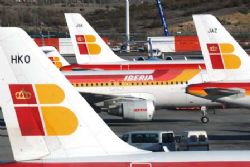 Yesterday's news that IAG - the parent company formed by the merger of British Airways and Iberia - returned pre-tax profits of €555 million for 2011, more than five times the amount seen in 2010.
However, as impressive and optimistic as these figures are, things do not bode particularly well for 2012.
Iberia in particular continues to be a cuase for concern, returning an operating loss of some €61 Million for the year, whilst BA returned a profit of €592 Million.
This has prompted the group to launch a new airline under the Iberia umbrella - Iberia Express - which is intended to compete with low cost airlines on short and medium haul flights domestically and throughout Europe, with focus on providing links for passngers connecting to long haul flights.
However, this too has not been without problems with Pilots on Wednesday holding their 12th day of strike action over this move since December. The SEPLA pilots union has concerns that the creation of the new airline, which is due to launch on March 25th, will lead to the loss of jobs.
IAG have calculated that these 12 days of strike action has resulted in the cancellation of more than 1'000 flights, which has cost the company in excess of €36 Million. The prospect of on-going strike action, lack of competetiveness within Iberia, and escalating fuel costs means that Iberia may return an even higher operating loss for 2012.
Meanwhile IAG's CEO, Willie Walsh, commented : "We remain focused on maximizing profits through efficiency, and improvements with launch of Iberia Express is an important step in that direction," he went on to say how he recognised the concern of the unions, but that "We are fully committed to the project and believe that its benefits far outweigh the costs."