Feb Unemployment up 9.6 pct on last year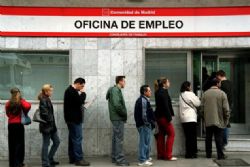 The Secretary of State for Employment, Engracia Hidalgo, yesterday released data showing how the number of unemployed in Spain rose during Februrary for the seventh consecutive month.
An additional 112'269 registered themselves as being newly unemployed over the course of the month - a 2.44% increase on January, and a 9.6% increase - 412'835 people, on February 2011.
The Ministry of Employment went on to state how last month saw the second largest growth in unemployment figures recorded for a February since 1997. Only saw higher figures when unemployment for the month reached 154,058. By comparison the figure for 2011 stood at 68,260.
On presenting the figures, Hidalgo commented how this justified the Government's introduction of the Labour Reforms last month as a measure intended to reduce the escalating numbes joining the dole queues, and encourage Spain's businesses to start hiring once again.