Courts reject Helen and Len Prior's compensation claim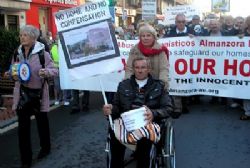 An administrative court in Almeria has rejected Helen and Len Priors claim for compensation against Vera council for the demolition of their home in 2008 as 'premature'.
The judgement was made on the basis that a definitive decision has not been made regarding the legality of the building licence issued to construct the property due to the existence of an ongoing appeal in the High Courts of Justice of Andalucía (TSJA).
The guilt or innocence of Helen and Len Prior is not the subject of debate in the courts. They are the victims of a planning dispute between the regional and local governments in Andalucía and they continue to live in their former garage whilst seeking damages for the loss of their home.
"Helen and Len are absolutely gutted by this latest setback" said a spokesperson for AUAN, an association of homeowners who support the Priors fight for justice.
"There is no sense or natural justice in the way this couple are being treated. This case is a disgraceful example of how the little people are being crushed by the inadequate, highly politicised and poorly implement planning laws of Andalucía. It sends a very bad message to anyone considering investing here."