Paramount reject unpurchased land as 'unnecessary'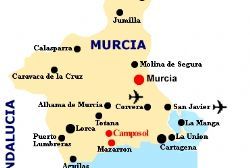 After the purchase, on March 7, of the land where the project will be located, PREMURSA is now immersed in the definition of the final plans of the Paramount Park and LifeStyle Center.
PREMURSA has finally rejected the purchase of the rest of the land as it does not meet the necessary requirements. This fact will not affect the deadlines established for the construction of the project.
The first stone will be laid on 31 May 2012.
Proyectos Emblematicos Murcianos S.A. (PREMURSA) has started to define the final plans for the Paramount Park and LifeStyle Center in Alhama de Murcia, which will be completed in the next few weeks.
These plans will be adapted to the 1,031,077 mts of land purchased on March 7. PREMURSA has finally rejected the purchase of the rest of the land as this still fails to meet the necessary requirements demanded by Proyectos Emblematicos Murcianos.
However, this fact will not only have no affect on the construction of the park or the established deadlines but, thanks to the redefinition and adaptation of the new plans, will lead to the optimization of both the space acquired and of construction costs.
Thus, the technical team of PREMURSA is working on plans that will integrate the Paramount Park (which maintains the original dimensions) in the LifeStyle Center itself; which will be resized but will maintain the same facilities and leisure areas specified in the original project.
Thanks to the integration of the park and the LifeStyle Center visitors will be able to enjoy the two spaces in a much more convenient, simple and fast way and, at the same time, many synergies can be created between the two areas.
In this way, the project gains not only in profitability, but also in operation and efficiency.
Once the design of the plans is completed, the laying of the foundation stone will take place, in an official event to be held on 31 May in Alhama de Murcia. It will be the starting gun for a film project.