Some Spain banks may struggle to meet cash needs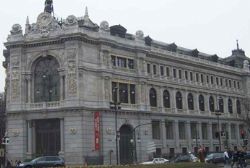 The Bank of Spain on Tuesday approved all 135 Spanish banks' plans to boost capital but said some may face difficulties meeting tough requirements set by the government.
The government set strict recapitalisation requirements in February to clean up the sector after a property crash and in an effort to reassure investors its ailing lenders won't need international help.
The Bank of Spain said 90 lenders were already complying with the capital requirements while 45 had presented plans to comply by the end of the year.
"The clean-up ... will be carried out by most credit institutions without major difficulty thanks to their sound solvency and profit situation," the Bank of Spain said.
It had required additional measures by some lenders which it said may struggle to meet the requirements.
Overall Spain's banks will need €53.8 billion, with additional provisioning needs totalling €29.08 billion and higher core capital requirements amounting to €15.58 billion, following the extraordinary write-downs of €9.19 billion in 2011, according to the statement. The government had estimated the needs at €52 billion when it presented the reform in February.
BANKIA
Bankia, Spain's fourth-largest bank with around €300 billion in assets, said last month it would stick to its standalone strategy and not need public money or merge to meet the new, tough capital requirements imposed by the government.
In total, Bankia needs to find €5.07 billion by the end of 2012. Analysts have expressed doubts it can manage without outside help. Financial markets are also worried that the government, which has to meet tough EU-agreed deficit targets this year and faces a mounting debt pile, could be forced to tap the euro zone rescue fund to recapitalise its ailing lenders.
The European Commission said last Wednesday Spain would not need euro zone financial help.
Spain's credit Institutions had until the end of March to present their plans and now have until the end of May to say if they plan to seek a merging partner.
The lenders have until the end of 2012 to raise their capital levels but, in order to encourage further consolidation in the sector, the government gave banks involved in mergers until the end of 2013 to meet the new demands.
The Bank of Spain also said the plans submitted included five merger and acquisition operations in which 11 institutions are participating. No details were given in the statement on which banks would be involved.
"These operations are at different stages of completion", according to the central bank.