BBVA hits Europe-set solvency target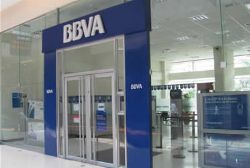 Spain's BBVA said on Wednesday it had hit solvency targets set by European regulators ahead of time without recourse to public money, as it reported a 13% drop in Q1 profit.
Spanish lenders are under pressure to convince international investors they have enough capital to keep running without a cash injection from the state or an international rescue fund.
BBVA is 1 of 5 Spanish banks classed as systemic by the European Banking Authority in December and given until the end of June to raise their capital levels in order to protect against a sovereign debt crisis.
Spain's 2nd biggest bank said it had achieved a core capital ratio - a measure of resilience - of 10.7%, ahead of the EBA target of 9% without selling core assets or chipping into its dividend.
Spain's banks are shoring up capital under European guidelines and writing down losses linked to a real estate bust at a time when the country is entering recession and unemployment is tipped to hit 24% this year.
Analysts expect BBVA to put off writing down bad investments in property assets to the second half of the year while it works to achieve the European solvency requirements.
Spanish peers Banesto and Caixabank took a hit on toxic real estate assets acquired during a decade-long property boom in their first quarter results released earlier this month.
Spain's latest banking reform, introduced two months ago, urged banks to put aside around €54 billion of provisions to mop up property losses, and encouraged mergers and cost cutting without the help of state cash.
BBVA reported net profit of €1 billion, down 13% on the year-ago figure and slightly ahead of analysts' forecasts. Net interest income rose to €3.6 billion, up 13% on last year.
The percentage of loans falling into arrears remained steady from end-December at 4%, comfortably below the sector average. Spanish banks' bad loans rose to 8.2% of total loans in February, the highest level in 18 years.