Spain banks to bear burden of unprovisioned property losses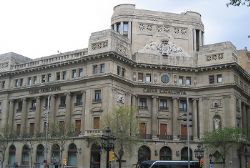 Spain's banking sector, not the government, will assume the cost of any unprovisioned losses on real estate assets after they are moved into a special holding company, a government source said on Friday.
The government plans to move toxic assets on bank books into a real-estate holding entities by the summer. An independent body of real estate professionals would evaluate the assets and later sell them off.
Under a banking reform presented by Spain's new centre-right government in February, the banks have already drastically written down their property holdings, which are the result of a property boom and bust.
The government source said on Friday that if the assets are sold at an even greater loss than the banks have already recognized, the banking system would have to absorb that additional loss.
"The financial sector will have to bear the cost of additional losses, when they top the ones already covered by the new norm," said the source.
The source also said the banks would now work on how to set up the entities and the government will coordinate the process so that a level playing field and common criteria are ensured.
About €184 billion of troubled real estate assets - including land, buildings and bad loans to developers - are expected to be placed in the holding company by Spain's lenders.
The total value of property assets on banks' balance sheets, including loans to the construction sector, reached almost €400 billion by the end of 2011, according to data from the Bank of Spain.
Spain's sickly economy faces a "crisis of huge proportions", a minister said on Friday, as unemployment hit its highest level in almost 2 decades - some 24% over Q1 - and S&P's downgraded the government's debt by 2 notches.