Spain says first banks audit due by June 21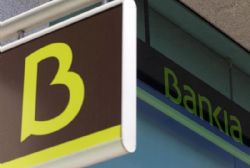 A first independent audit of Spain's banks detailing how much extra capital they require will be completed by June 21, the country's economy ministry said on Friday.
Spain is expected to ask for help with bailing out its banks at the weekend, EU and German sources told Reuters - which would make it the 4th euro zone country to seek international help in managing its debts.
But the government has said it will wait to get an independent estimate before embarking on a recapitalisation programme.
Rating agency Fitch gauged on Thursday the sums involved at between €60-100 billion, while an IMF report is expected to show by Monday that the banks need an extra €40 billion.
A second, more detailed audit of the banks would be completed by July 31, the ministry added in a statement.
The first audit, carried out by consultancies Oliver Wyman and Roland Berger, will involve two stress tests - a base-case scenario and a severe economic downturn with drastic falls in property prices, the Economy Ministry said.
This will include the effect of a sharp downturn on banks' loan books beyond the real estate sector, in personal and business loans, areas until now not tackled by government demands for the banks to beef up provisions against future loan losses.
The scenarios will be similar to those used by the IMF, the Ministry said.
Slashing Spain's credit rating by three notches on Thursday, Fitch said a more severe stress scenario implied recapitalisation needs as high as €100 billion.
The audit to be delivered by June 21 will outline capital needs of the whole banking system and identify the weakest banks under stressed conditions.
The 2 consultancies will carry out the tests separately, with the resulting numbers being used as a range.
Separately, a longer-term evaluation of banks representing 90% of the banking system will be carried out by Deloitte, Ernst and Young, PriceWaterhouse Coopers and KPMG.
This will closely examine the loan books of the banks and the level of provisioning made against defaults. The results of these will be ready on July 31.
The Bank of Spain will analyse the information and will decide whether any further capital is needed, the Ministry said.